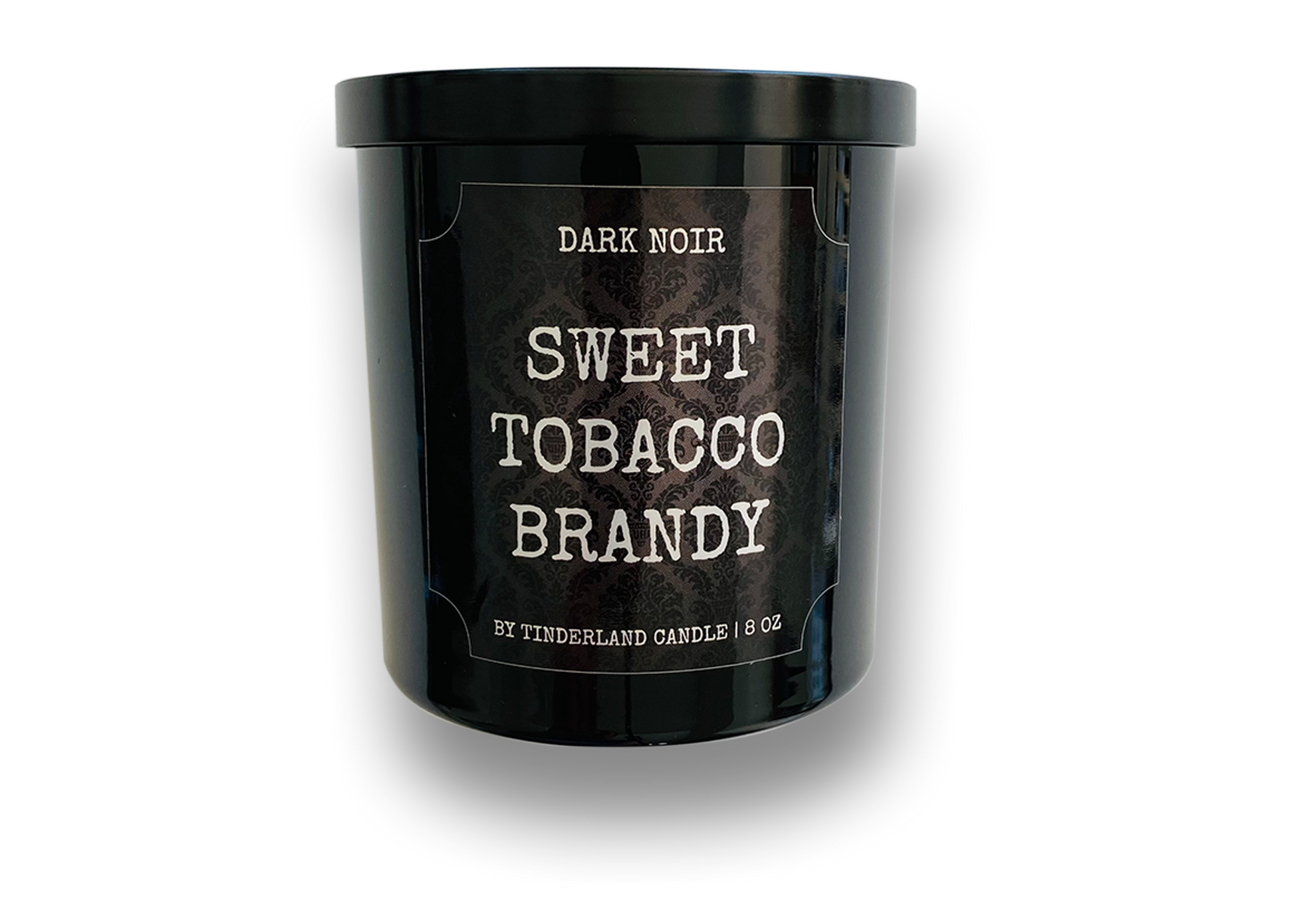 Sweet Tobacco Brandy Dark Noir Candle
6 people are viewing this candle right now
Create an alluring ambiance with rich aromas of Tobacco, smooth Brandy, and sweet Honey that exudes elegance and indulgence.
Sale price
$19.99 USD
Regular price
Estimated Delivery:Dec 10 - Dec 14

Speedy Fulfilment: 24 hour turnaround on weekdays!
Sweet Tobacco Brandy Dark Noir Candle
Sale price
$19.99 USD
Regular price
Fragrance Notes
Candle Reviews
Candle Specifications
Candle Care & Safety
Other Purchase Details
Surface: Amaretto, Honey
Middle: Brandy, Tobacco Leaves
Base: Oak, Benzoin
Essential Oils Infused: Cedarwood, Clary Sage, Palmarosa, Vetiver
Candle Specifications:
8 oz wax volume (~227g) black glass candle
One 100% Cotton Wicks with Recycled Paper Cores (Lead-free, Zinc-free)
Organic Coconut Soy Wax USA grown
Estimated 45 +/- Hour Burn Time
Infused with Non-Toxic Essential Oil Fragrances
Non-Toxic with zero parabens, phthalates, palm oil, or paraffin
Reusable black glass jar and lid
Hand poured in small batches with love in Cornish, ME
Packaging Specifications:
Orders may be packed in either a non-descript brown cardboard box or a customized Tinderland Candle box, depending on size of order. Shipping label will show Tinderland Candle as the return address.
Please note if order is a gift so that we can remove the packing slip. Otherwise packing slip will be included.
All candles are double wrapped with bubble wrap.
All candles are secured in box with biodegradable packing peanuts.
Gift wrapping is not available.
Coconut Soy Wax:
The candle wax used is a proprietary blend of Coconut and Soy waxes which provide the best of both worlds for your candle in that Coconut wax holds a greater scent load as well as a longer burning time, while Soy allows for wax to stay solid at higher temperatures during transport. Candles may "sweat" from time to time in warm weather or during transport in the summer months. This is not a defect of the candle - rather this is a natural occurrence in organic waxes when dealing with heat. This will not impact the burn quality, lifetime, or scent of your candle.
Lifespan of product is an estimate based on our own testing and customer feedback. Results may vary depending on usage, care, and environmental factors.
To prevent fire and serious injury, please burn this candle within your sight. Keep away from drafts and vibrations. Keep out of reach of children and pets. Never burn candle on or near anything that can catch fire. Place on a strudy, level, static surface with nothing within reach of the flame.
Trim wick to 1/4 of an inch before lighting. Keep candle free of any foreign materials including matches and wick trimmings or any other potentially flammable or hazardous materials. Only burn the candle on a level, fire resistant surface. Do not burn the candle for more than 4 hours at a time.
Warning label is listed at the bottom of each candle sold by Tinderland Candle.
Please refer to our Shipping Policy for any shipping concerns. All shipments are originating from Cornish, Maine and are shipped via USPS. Please note that the estimated shipping time is truly an estimate and not a guarantee. We provide a 24 hour turnaround time during weekdays except for Friday, Saturday, and Sunday. Orders placed on these days will be shipped the following Monday. Orders placed during a Federal US Postal Holiday will be shipped the next day. Due to Maine's ever-changing weather, we reserve the right to delay shipping during inclement weather and ship the following day if weather improves. We appreciate your support and understanding.
Please refer to our Returns/Refund Policy for any questions on returning an item or seeking a refund for an item purchased.
All payments are securely processed via Shopify's ShopPay system. We accept all major credit cards. We do not accept cash, check, or digital transfers (i.e. Cashapp, Venmo, Zelle, etc.). If purchasing via Installment plan, Shopify's ShopPay Installments program coordinates payment collection.
Orders delivered to Maine are subject to state sales tax of 5.5%. Orders delivered to all other 49 states are not subject to sales tax currently. International orders are subject to customs and additional shipping fees (dictated by USPS and customs - outside the control of Tinderland Candle). International ordering is currently only available to Canadian provinces.
Remember! Even if you're not buying for yourself, candles make for perfect gifts for any occasion! Consider one for the next birthday, wedding, holiday, housewarming party you attend, or simply a thoughtful gift you give! It will warm the heart of the receiver, literally!
Hear What Our Customers Think
Smoked Palo Santo Candle
"All of Tinderland Candle products are high quality and high scent. Care is put into each product, whether it be a wax melt or a jarred candle. This scent specifically is unique - it's fresh and a little smoky with hints of citrus. It reminds me of a really nice cologne. You can't go wrong with any of these products!"
Fresh off the Vine Candle
"First off, there are not many vegetal smelling candles out there that are 1) natural smelling & 2) inexpensive. Fresh off the Vine is both! The scent reminds me of a garden warmed by the sun but with a bit of morning dew still on the leaves. What a wonderful blend of herbal, vegetal, and freshness."
Gardenia Tuberose Candle
"I am burning this now and oh my gosh it has my entire house smelling so amazing! Super fast shipping, love the packaging and the scent it WAY better than many name brands out there! I am DEFINITELY a new customer!!"
Alpine Zone Candle
"Just received my candle today and let me just just say I am blown away by it's never ending smooth but touching scent as I relax with a book. I highly recommend for special events or even everyday use. Already looking to purchase more!"
Fresh Fabric Candle
"I love this candle! Fresh linen/fabric/cotton scents have always been a hit with me and this is by far my favorite I've tried."
Lavender Driftwood Candle
"Bought this candle and I couldn't be happier! It makes working from home SO much more relaxing! Definitely a good all day
candle!"
Bamboo & Coconut Candle
"Transitioning out of autumn and the holiday season this is such a nice, clean scent to have at home during spring/summer! It is specifically cozy for the bedroom or bathroom any time of year as well since it is relaxing. I absolutely love the Bamboo and Coconut candle and am happy to
use it in my home! There is also peace of mind that breathing is easy for my family and pets knowing it is nontoxic which is huge!!"
Coastal Waves Car Air Freshener
"I was a bit skeptical about how well this car air freshener would work since it's rather small in size and I have a large SUV. I was quickly proven wrong. Within about 45 minutes, I was shocked at how good my car smelled. Each and every time I get in my car, I am pleasantly reminded of how effective this air freshener is. I haven't even had to replace the fluid yet. And the best part, it smells absolutely AMAZING. And on top of that, the design is eye catching as well. I can't recommend it enough and I will definitely be buying more in the near future."
Peach Nectar Car Air Freshener
"This product was exactly what I was looking for!!! I absolutely love that Tinderland Candle Company is carrying car diffusers now and it smells wonderful 😍 I love that you can purchase refills too! Shipping was so fast. I'm exited to have a non toxic smell good diffuser that I can feel good about having in my car now. Its also very easy to use! I can't wait to try out more products the company has to offer!"
Midnight Musk Dark Noir Mini
"This smells incredible! It burns so clean and the scent is beautiful."
Breathe Candle
"Absolutely love the fresh scent of this candle, as well as the simple, classic look of the ceramic. Fits our décor perfectly and makes the room smell incredible!"
Maine Winter Wax Melt
"Not only is this my new favorite scent, but I was incredibly impressed with the lasting power. I didn't have to use more than one melt all day!! With other brands, I end up using 2-3 melts (per warmer) over the course of the day just to keep the scent continuous."