Eco-Friendly from the Start
From organic Coconut Soy wax to cotton wicks, and every ounce of Essential Oil in between, our candles are some of the safest, most environmentally friendly, and long lasting on the market - and did we mention they just smell so good too!?
At Tinderland Candle, our mission is to create exceptional natural candles, crafted with care using Coconut Soy wax grown in the USA, infused with invigorating essential oils, designed to burn for up to 70 hours, all while prioritizing environmental consciousness through our eco-friendly and organic ingredients, providing a truly sustainable and captivating aromatic experience.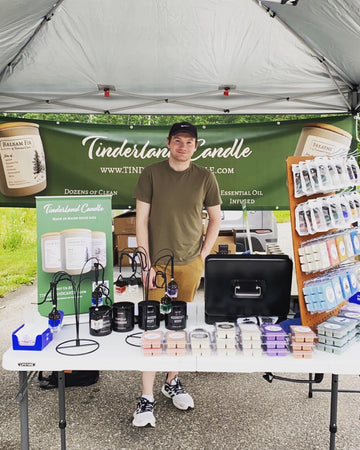 Nature's Best Scents
Proudly Made in Maine

All of our candles are hand poured
in Cornish, ME.

Neutral Decor, Amazing Scents

We designed our candles to integrate
into any space with a clean, modern look
paired with a timeless label design and
simply the best scents possible.

Long Lasting

Our Coconut Soy wax mix provides you
with the longest burn life and greatest
scent dispersion.
Making a Conscious Effort to Improve Your Candle Burning Experience
Ian Maksut's motivation to create Tinderland Candle stemmed from a deep desire to combine his passion for sustainability with his love for captivating scents. Fueled by a commitment to protect the environment, Ian envisioned a brand that utilized eco-friendly ingredients like Coconut Soy wax, essential oils, and organic cotton wicks, all hand poured in Cornish, Maine. By crafting candles that harmonize nature's finest elements and the artisanal spirit of Maine, Ian aimed to offer customers an enchanting olfactory journey that is both mindful and unforgettable.
About Ian
A born and raised Mainer, Ian grew up in southern Maine. After graduating high school he attended Suffolk University in Boston, MA where he received his BS in Business Administration (BSBA) majoring in Big Data and Business Analytics and minoring in Information Systems in 2019. Ian moved back to Maine to work in Information Technology focusing in analytics and databases. He has always had a passion for entrepreneurship which lead him to start Tinderland Candle in the fall of 2022. An avid candle lover and fan of many scents, he thought, how hard could making candles be? Turns out, it can be! It's both an art and a science he learned, which lead to many experiments and rounds of testing to produce Tinderland's product line you enjoy today. What drives Ian is the creativity candle making offers, the variety of people who enjoy candles from all walks of life, and not to mention makes his house smell amazing when making them!