Wholesale with Tinderland Candle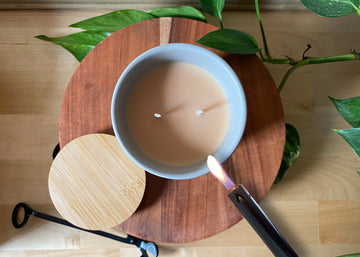 Maine Made Candles
Each one of our candles are hand poured in Cornish, Maine utilizing the safest and most environmentally friendly ingredients that your customers will love. Explore all of our unique candle scents to sell in your store!
Shop Ceramic Candle Scents
Wholesale FAQ
Which Products Can I Buy Wholesale?
Currently we offer our Ceramic 10oz, Black Glass 8oz, and Car Air Fresheners for wholesale. We do not currently offer travel tins, mini mason jars, wax melts, or reed diffusers as wholesale products.
What is the Cost to Buy Wholesale?
Contact ian@tinderlandcandle.com to inquire about wholesale pricing.
How are the Candles Delivered?
If the destination shop is within 50 miles of Cornish, Maine, we will deliver the candles free of charge.
If the destination shop is greater than 50 miles away from Cornish, Maine, we will charge shipping to ship the candles to your shop.
Requirements for Being a Wholesale Customer
Wholesale customer must have a valid Retailer license from the state in which they are located and licensed to buy wholesale goods. Wholesale products will not be sold to general retail customers.
There are no requirements to charge Tinderland Candle's marketed MSRP on our products once purchased wholesale.
All candle products will have a warning label on the candle which will include Tinderland Candle, the location it was poured, our Instagram handle, and our website.